What is the Tale Spin Virtual Season?
This is a project from fans to make new episodes of the series.
A Virtual Season can take different forms : from a 100% animated project (unrealistic) to screenplays / fanfics (realistic)
For our project, we have chosen to do screenplays with some illustrations, and we intend in the long term to do a comic based on this.
Of course this project is made on our free time and only for entertainment purposes.
Current Status
- A gallery filled with all the artworks done by everyone who contributed, has been added on the site :
- The first few episodes have been written and are in the process of being finalized. Here for your reading pleasure is a small sample of the script:
Here is a first sample of a comic page :
And here's some concept art:
It is our hope that the episodes can be released as comic books, but at the moment we just don't have enough artists on the VS team to pull that off. So for now, it looks like the first few episodes will be released in script format with a few accompaning illustrations.Of course, if at sometime in the future we get more artists on the VS team, it could then be converted into comic book format.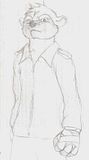 Credits
Story by: Opus, 0x7B, Straycloud and Phylogeny
Written by: Phylogeny
Concept Art by: Eclipse
Original Characters by: 0x7B, Eclipse and Godzillawolf
Thanks to the entire VS team for providing all the valuable feedback, ideas and suggestions!
Please click on the tabs at the top for more information.