Right, to stop people being confused, I'll just explain...
Over many articles here at Lion King Source, the same articles about Simba and Nala's cubs have been popping up, and the same thing confuses peoples who claim it's Kopa or whoever.

Cub #1:
(The cub at the end of TLK1)

This cub:


This is Fluffy. This is what the producers of TLK called this cub as a joke. It was merely a name used to name the cub temporarily, and was not meant to be taken as it's official name.

Cub #2:
(Kopa)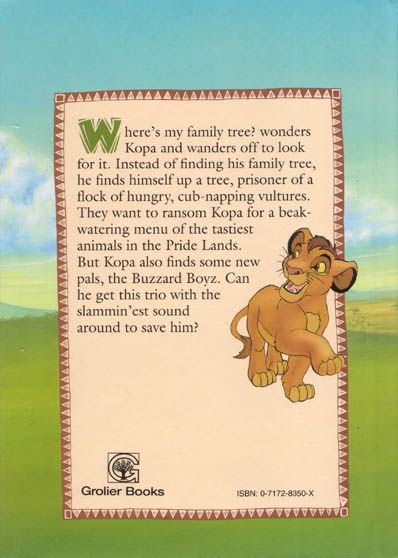 The same year as TLK was realeased, some books were published called The Lion King: 6 New Adventures (TLK6NA). These stories included Simba's cub Kopa; kinda like Simba but with a Kovu hair tuft. It was never the official name as Simba's cub.

Cub #3
(Tanabi)

Tanabi was the name of Simba's cub in Joshua Templin's fan-fiction: 'The Tales of Tanabi' (written in 1995-6). It was one of the longest fan fictions written at the time, thus why so many people considered this to be the real name of Simba's cub. Tanabi never had a canon design, but many people have drawn him; the most popular being Akril's design for him.

Cub #4
(Chaka)

Chaka is the rumoured name of Simba's cub in early TLK production, possibly to continue the fact that Simba's cub should be a boy. But Chaka was dropped out the film early, mainly due to too many characters being introduced at the beginning of the film.

Cub #5
(Shani)



Shani is just Kiara's old name in early SP production, while Chaka was still around. Chaka was dropped and Shani was changed to Kiara. As you can see in the image above, in early SP drawings, it calls Kiara, 'Shani'.

Cub #6
(KIARA!)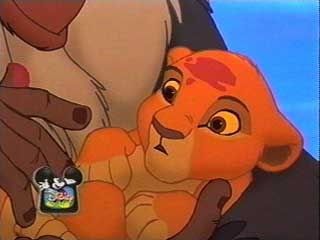 Okay, this is the only official cub of Simba, as Disney have said. Simba never had any male cubs, and only Kiara. The two ceremonies are meant to be the same, even though the cub in TLK looks so much like a boy. There are many ideas about Zira killing Simba's original cub, and that's why she was banished, but remember these are not official and only ideas.

Hope these have cleared a few confused minds.

Sources: Timali's 'Who's Simba's Cub' picture, Brian Tiemann's comments on the picture, va-kasi's Simba Pride website, and Lilymud of course.
Deleted image : http://www.animationsource.org/roilionsource/img/articles/66/4p.jpg
Deleted image : http://www.animationsource.org/roilionsource/img/articles/66/3p.jpg