In contrast to the previous two films, Ice Age 3 takes us into a world of different dinosaur species, a very rich biodiversity. Have you recognise any? If this is not the case, this section is for you, and you will learn about the different species in the third Ice Age movie!
---
The first dinosaur that our three heroes encounter is the tyrannosaurs, as Sid took the eggs from their mother who had probably gone hunting.
T-Rex
(Tyrannosaurus Rex)
Species information: The T-rex is arguably the most famous predator of the Cretaceous period. It was a bipedal carnivore with a massive skull balanced by a long powerful tail. Relative to the large hind legs, the arms of the T-Rex were small and atrophied, and wore only two clawed fingers. Although other theropods rivalled or exceeded the size, it was one of the largest land carnivores that existed on the planet, measuring up to nearly 12 meters long, 4 meters in height, and weighing up to 6.7 tons!
---
While our heroes follow Momma Dino to rescue Sid, they very quickly get a bad encounter. A Euoplocephalus.
Euoplocephalus
(Ankylosaures)
Species information: Euoplocephalus was a herbivorous dinosaur that lived during the Cretaceous period at around 73 million years B.C. 7 metres long and 2 tons in weight, it was part of the family of ankylosaurids, armored dinosaurs with rather short legs. The head, neck, and back were protected by bony plates, some of which can cover the eyelids. At the end of its tail was a club made up of bony prominences in the continuation of the last caudal vertebra. It is used to defend against large predators by hitting their hind limbs. Despite its armor, it was probably quite fast, able to run away or turn to start the scourge against its attacker. It is believed that Euoplocephalus lived alone since the 40 specimens found were isolated from each other.
---
Fortunately for the small group, a peaceful Brachiosaurus grazing nearby and came to their rescue, attracted by a plant-wise Ellie.
Brachiosaurus​
Species information: The Brachiosaurus was one of the largest-known dinosaurs. Unlike its cousin the Diplodocus, the Brachiosaurus had nostrils on the top of its head. It has long been thought by palaeontologists that Brachiosaurus lived most of their time underwater, though is known that the pressure of the depth of water required to submerge this dinosaur would have made it impossible to breathe. It is also believed it is possible that its nasal openings had a thermoregulatory function. These openings could be lined with moist skin, which could have helped cool the Brachiosaurus' brain in a hot climate. Brachiosaurus had a thick head domed with a wide and flat snout. But compared to its body, it was tiny.
---
Out of their missteps, our heroes find themselves surrounded by immense creatures, among which may be noted as three recognisable dinosaur species: The Stegosaurus, Prenocephale and Iguanodon.
Stegosaurus
Stegosaurus was a large herbivorous dinosaurs that lived in the late Jurassic period, between 156 and 140 million years before our era. It was about 8.5 meters long, 4 meters high and weighed up to 3 tons. Unable to run, this dinosaur ate plants near the ground. Its slowness and clumsiness made it vulnerable to predators, but it could defend himself with its tail bristling with 4 spikes that are up to 1 metre long. The double row of bony plates that it wore on it's back had little defensive value, but probably used it to regulate its body temperature like the radiator Dimetrodon.
Prenocephale
Prenocephale is a small herbivorous dinosaur lived in the Cretaceous period, 84 million years before our era. Akin to Marginocephalia, it is part of Pachycephalosaurus the "lizards' thick skull." It was about 2.5 metres tall. The cranium swelled at its upper portion to form a dome. It is assumed that this bone cap grows with age. The Prenocephales lived in herds, and males probably battled in the mating season with head against head to decide who would rule the flock, somewhat in the manner of sheep.
Iguanodon
The Iguanodon is known for appearing in Disney's Dinosaur. Its popularity also comes from the fact that it is the second dinosaur have been described after Megalosaurus. It is characterised by a similar basin with a bird, as well as a sharp inch. Moreover it is assumed that for defence, the Iguanodon would use it's thumbs like daggers. This herbivore was both biped and quadruped. The first specimen was discovered by Gideon Mantell from a tibia, a few bones, and teeth. 81 fossils have been discovered as of 2008.
---
Buck then comes to the rescue and vanishes them in a cloud of smoke. While our heroes are hiding in bushes, they spot a triceratops.
Triceratops
With a high collar bone, three horns, four great legs, and showing similarities with the rhinoceros, the Triceratops is one of the most recognisable dinosaurs. It has lived in the same period as the fearsome Tyrannosaurus Rex which was its prey. It was one of the last dinosaurs to live before extinction.
---
While Sid is with Momma Dino, he tries to save a poor bird-looking dinosaur from being eaten, except this one does not fly. It is a Archeopterix.
Archeopterix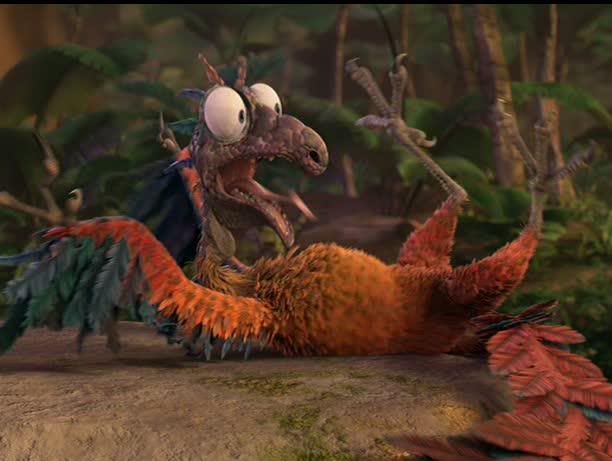 The Archaeopteryx is a type of dinosaur with feathers. These bird-like dinosaurs at a length of less than 60 cm, lived in the late Jurassic period 156 to 150 million years ago in an island environment, which today is in Germany. The Archaeopteryx was the very first fossil found with well-preserved feathers, and long regarded as the earliest bird fossil. The findings of the various Archaeopteryx specimens have contributed to the construction of the most common theory of the evolutionary history of birds, that birds descended from dinosaurs.
---
During their journey, our heroes are forced to separate. Buck, Crash and Eddie go off to rescue Sid by borrowing a passing-by Pterodactyl.
Pterodactyl
The Pterodactyl is like giant prehistoric penguin, but just under 11 meters wide of the giant Quetzalcoatlus cousin. These flying reptiles have disappeared without offspring and are not the ancestors of today's birds. They proved that adaptation to flight appeared several times in the evolution of life on earth; In birds, mammals in the case of bats, and flying reptiles. The study of the flight and movement of Pterosaurs was conducted with the most modern means of modelling. Now they are believed to be able to get off the ground (though not necessarily of a cliff, as previously thought), they could develop a flapping flight, and it walked with 4 legs on land. However, the has a rather rather tucked body. The hypothesis of quadruped walking is especially confirmed by the discovery of Pterosaurs footprints.
---
Manny and Diego try to Ellie (who is in labour) from the Guanlong.
Guanlong
The Guanlong was a theropod dinosaur, a small carnivore, and the oldest kind of Tyrannosauridae. It wore a crest on the head and measured 3 meters long and weighed 50 pounds. It lived in the late Jurassic period in China about 155 million years ago.
---
While Buck and the possums fly the Pterodactyl to rescue Sid, an army of Quetzalcoatlus chased after them.
Quetzalcoatlus
Quetzalcoatlus (named after the Aztec god Quetzalcoatl) is 15 metres wide, and the largest animal that has ever flown on Earth. It lived in the Cretaceous period about 65 million years. The first incomplete fossil was found in Texas and included some arm bone which indicated it's scope. The animal is also characterised by its tapered and toothless snout, which leaves palaeontologists a little puzzled. One wonders what they ate, especially as its fossilised remains were found in the land, not near the sea. It is possible that it used updrafts to glide over land until it found a carcass. Others think it could catch prey in fresh water, capture small vertebrates on earth, or have a mixed diet of prey carcasses. The Quetzalcoatlus was the largest known pterosaurs, being 8 meters long, 6 meters high with four legs, and with weight of 120 kilograms. It's beak measured two meters long and it's neck was very long.
---
And finally, a predator who has been mentioned throughout the film with very little relieved about it until near the end. Rudy the albino Baryonyx appears!
Baryonyx
The Baryonyx was a theropod dinosaur from the family of Spinosauridae, which shares characteristics with a long, narrow snout and a large claw on it's thumb. This dinosaur lived in what is now England, Spain, and Portugal in the Barremian (Lower Cretaceous). It is one of the few dinosaurs whose diet is precisely known, and it is currently the only non-avian theropod that was at least partially piscivorous. He had to be about 8 meters in length at a weight which was valued at nearly 2 tons.