So many people seem to have a problem drawing wolves anatomically correct.

So I'm going to help you.

This is going to be done in a realism style for the purpose of no one 'copying' styles as this seems to be a popular thing now. You will learn to develop your own style, this will only help you with anatomy.

Now I have pulled these from various different locations. These images are copyright to OTHER ARTISTS. NOT ME. IF any of MY drawings are onhere, I will label under them so. Please respect these other artists and do NOT take any of their images. These are for ANATOMY REFERENCES ONLY.

In order to draw CARTOON wolves, you must learn wolf anatomy as well. This is for REAL AND CARTOON Wolves. Though you will only see realism here, you develop what you learn from the realism into cartoons.

QUESTIONS? Feel free to ask.
-------------------------
Yes, this is in Russian. This page gives you the basic gyst of the anatomy
of a wolf. As you can see it is clearly drawn out, to show you the form of the eyes, head, legs etc.
[
Image from
http://www.Elruu.deviantart.com
]
A wolf and a dog walk is nearly the same [on most breeds]. See how the movement flows? When the leg lifts, the back end lifts slighly as well, hence the tail movement we see when our dogs walk. Keep in mind when drawing wolves in motion everything must flow or the animal will see disproportioned and your drawing will have that 'wonky' appearance.
[Image from Refrence packet]
Teeth, I see so many people whom draw muzzles and teeth wonky, the muzzle is a tough part of a wolf to get down, as a slight mis-calulation in the drawing and this can be too big or too small. Teeth placement is another, skeletal structure is extreamly important when it comes to anatomy.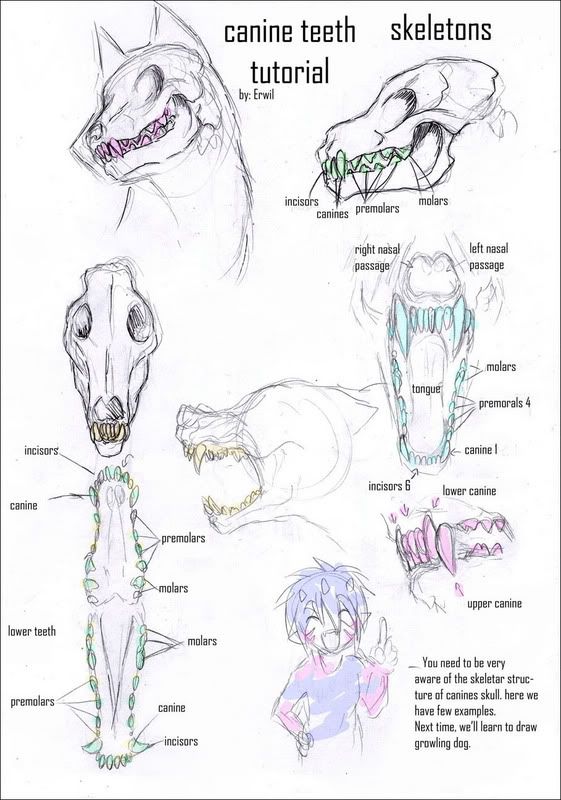 [
Image from
http://www.Erwil.deviantart.com
]

I have including a second refrence for the sake of angle purposes. This is much more doggish.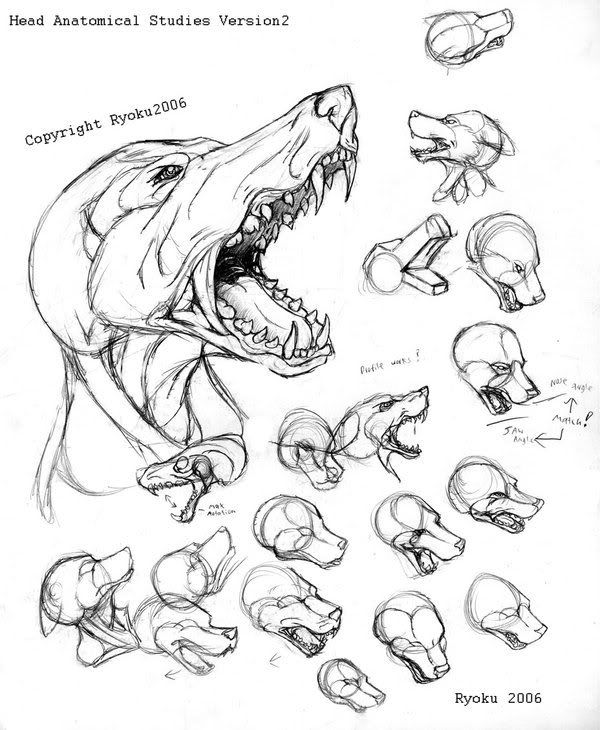 [
Image taken from
http://www.Ryoku.deviantart.com
]
Skulls, this is a huge part of wolf anatomy, if you don't get the skull right, the head is completly deformed, remember though, this is the bone structure, the basic wolf head is only made up of a few simple shapes!Which later on will be shown. Remember the head is a shape, a circle with the muzzle as a rectangle and those ears can be drawn as triangles. Simplify it will make your drawing life easier.
[
Image from
http://www.Andoo45.Deviantart.com
]
Ears always seem to be another issue for people so I have found a simple but easy refrence. As you can see ears are quite simple, but they do have their nitches that can really get you stuck.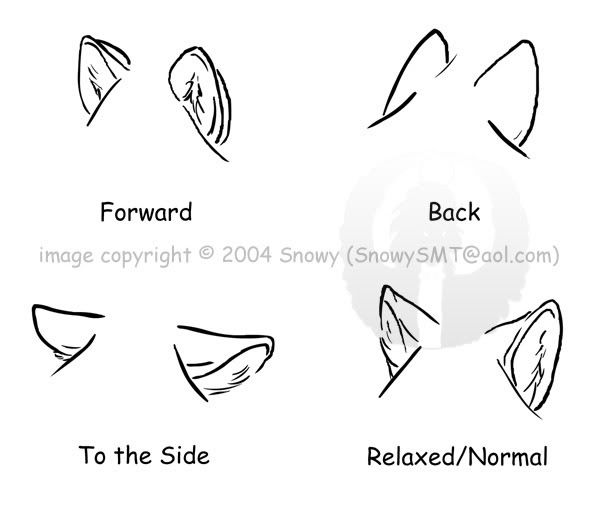 [
Image from
http://www.SnowySMT.deviantart.com
]
The final image is the basic overall structure of the wolf head now that we have covered the body. This is a SCAN from the book titled, "Drawing Wildlife," by J.C Amberlyn an extreamly taleneted artists, this book has such beautiful refrences from the way fur flows to the paw pads of a wolf. I highly suggest purchasing the book if your looking for a refrence.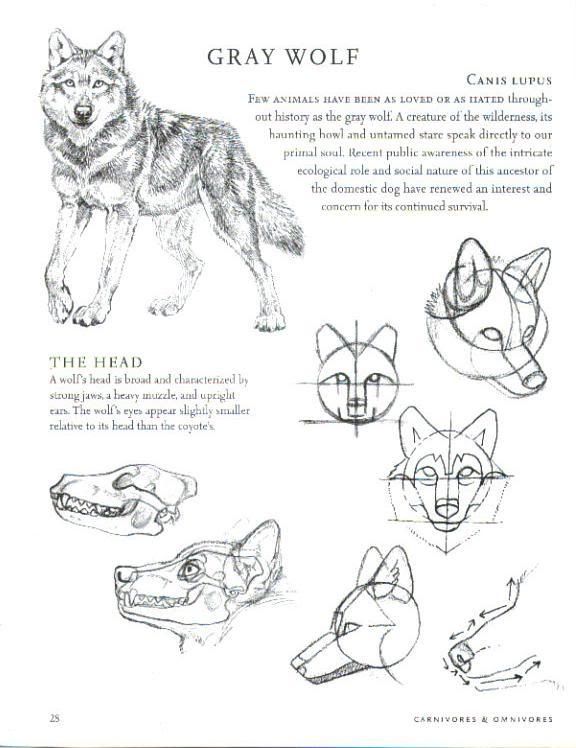 FUR, fur is quite a complicated process, it must flow in all the right directions and if you make it too thick it can turn your wolf into a right big block. To save some space and credit to artists I am going to post some links to helpful fur tutorials.

Now I will include a few links to some FUR tutorials on DA, digital fur and traditional fur have the same concept:

http://www.deviantart.com/deviation/171 ... _scale%3A5
http://www.deviantart.com/deviation/388 ... _scale%3A5
http://www.deviantart.com/deviation/322 ... _scale%3A5

Some OTHER Wolf Tutorials:
http://www.deviantart.com/deviation/137 ... _scale%3A5
http://www.deviantart.com/deviation/929 ... _scale%3A5

I hope this aids you in your quest to improve drawing.

Best wishes,
Drew
[Fan-Art Moderator]