An upcoming crossover fanfic i'll wrote, it will include characters from animals movies, TV shows and comics.
Actually working on the plot:

Hero
1) A man distinguished by exceptional courage, nobility, fortitude, etc
2) A man who is idealized for possessing superior qualities in any field

And a Superhero is:
A fictional hero having extraordinary or superhuman powers; also: an exceptionally skillful or successful person.

But the difference between them two, it's more than colorful costumes: But get rid of all those differences. They are a lot and we may not finish on time to read the story. Now focus on the similarities:

They share the courage, motivation, and conviction to accomplish their objectives. In this story we'll see that the stretch between 'hero' and 'superhero' is thinning, almost dissappearing...
That's the preliminary opening narration of the story, the character, as i've said before will come from a great variety of cartoons, movies and comics. They will work together to protect the world from a lot of threats, (or just one, i'm not sure by now) just like the Justice League or the Avengers.
My preliminary roster is:
Bolt
from the 2008 movie of the same name
Colleen
from the 1997 cartoon Road Rovers
Exile
from the 1997 cartoon Road Rovers
Hunter
from the 1997 cartoon Road Rovers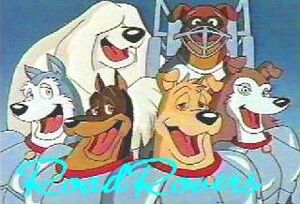 Krypto
from the 2005 cartoon Krypto the Superdog

Mittens
from the 2008 movie Bolt

Streaky
from the 2005 cartoon Krypto the Superdog
I'll add some allies, like the Dog Star Patrol of Krypto. Or even Underdog, and some OCs as well.
Well, that's it for now, tell me what you think about, if you don't have anything good to said, don't say nothing.