To be honest with you, that is still cartoonism.
Realism
: (Fine Arts)
a. treatment of forms, colors, space, etc., in such a manner as to emphasize their correspondence to actuality or to ordinary visual experience.
b. a style of painting and sculpture developed about the mid-19th century in which figures and scenes are depicted as they are experienced or might be experienced in everyday life.
As you can see, realism is what "is," not what is imagined by oneself. The eye of the wolf you drew, the harsh lines, and the lack of anatomy makes it cartoonism.
- Many wolves live in a cold or even arctic/subarctic climate, which explains their "fluffiness." Did you choose a specific wolf or is it "just a wolf?"
- Wolves have rounded ears, not pointed. This helps differentiate them from cats.
- The hairs on the top of the head, more often than not, line up with the hairs along the nape of the animal's neck.
- Have a red-line.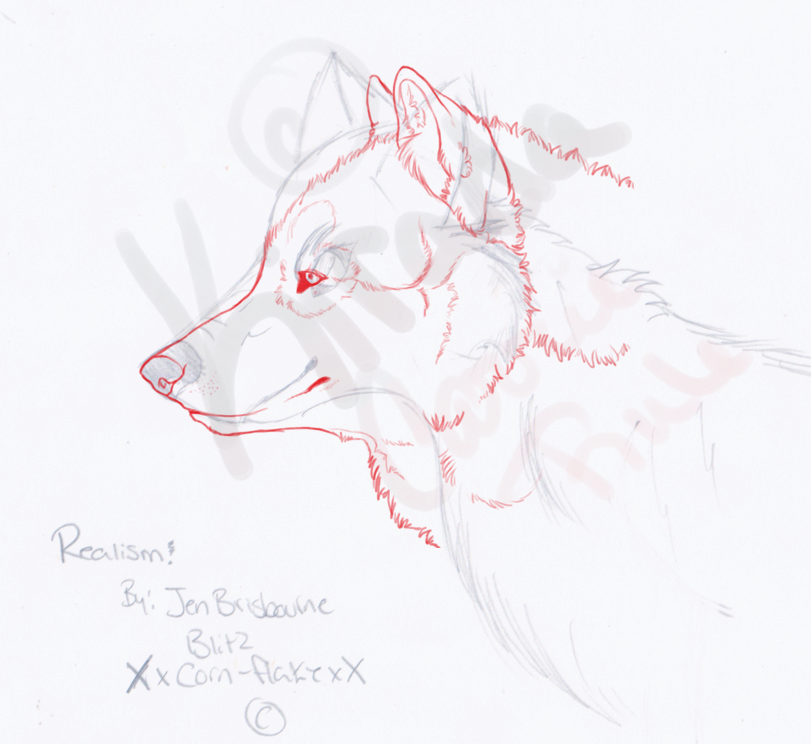 (Wolf is from one of my recent drawings, but displays the proper anatomy and same profile view.)
My suggestion to you is, as you're starting realism, do the thing everyone hates:
STUDY ANATOMY
. Without anatomy your "realistic" drawing won't hold together and will, honestly, be made fun of at some point or another. Use DeviantART.com's free stock photographers' references. They provide them for free; utilize your resources. Reference their photos. Draw several wolves in more than one pose from more than one angle. Learn about the different kinds of wolves.
Check out all of this FREE reference material!
Make sure that the photo you're drawing from is designed for reference use. Don't use google (copyright infringement that can get
you
sued for drawing the artwork and claiming any sort of copyright). If you find a photographer on-line that you really like but their photos aren't stock, use the "Contact Me" page to send them an e-mail and
request their permission
. Be clear of what you'll be using the artwork for. By doing this, I got a photographer to agree to let me use his photographs for non-profit use, while the same photographer has, until now, said "no" to artists. All because I was genuine and concise!
The one thing I cannot stress enough:
DO

NOT

REFERENCE ARTWORK OR PHOTO MANIPULATIONS.
Why? Artwork has flaws; by drawing off of another artist (even if they allow it), you're unknowingly gaining the flaws in their art. Photo manipulations are what they are -- photographs that have been manipulated, which can distort a lot of the anatomy and color/detail. If you can't see what you're drawing, how do you know if you're drawing it correctly?
If you need any other critique, advice, or direction I'm always here for you. (: