...or, for now, one part of it at least. With regards to Zootopia that is.
There's been plenty of scuttlebutt floating around the net concerning Zootopia sequels and Zootopia television series. For now, the Zootopia sequel rumor has been settled (though that doesn't mean that there won't be one. The movie is ripe for a sequel, and the writers and directors left the first movie with a wide-open ending for a potential sequel. And surely it made more than enough money worldwide to support one). Still, in the short term at least, the matter has been settled. Thus:
http://www.animationsource.org/board/post1510732.html#p1510732
.
Similarly, rumors have been apparently floating around concerning a Zootopia television series, which would presumably air on the Disney Channel. And apparently, as usual, those rumors included the outlandish claim that Judy and Nick would be involved in a co-habitation/romantic relationship leading...well, who knows where.
Here, from one of the Zootopia movie directors, is the straight and plain fact: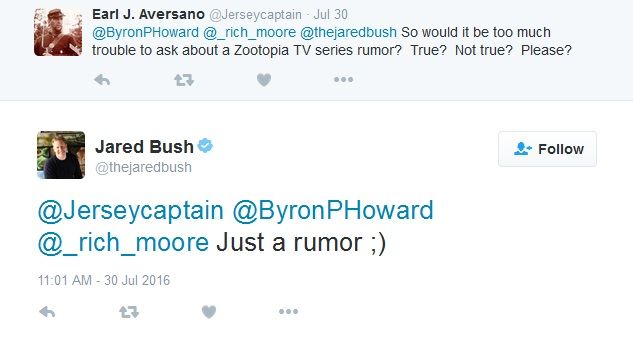 Folks, stop believing everything you see on the internet. Unless it comes from an official source, connected with the Walt Disney Company, including their animation department and/or one of those who have worked on the original film, you should not be taking it as factual. Regardless of what website it is posted on, or who said it. Believing or wanting enough for something to be true doesn't make it true. Do I really have to bring up the painful memories of the "Balto 4" controversy?