For my spring break, my mother and I went to Cleveland, Ohio, where Balto's body is kept in the city's natural history museum. As luck would have it, the Cleveland Natural History Museum was running a special exhibit on Balto and the serum run! It was a lot smaller than I expected, but here's a few pictures.
Not shown: The musher's set up (you can see it behind Balto a little bit) and two cases on the floor. One contains merchandise pertaining to Balto and the other printings and publications pertaining to Balto. Interestingly enough, the animated movie was not mentioned at all in this exhibit, not even in the merchandise section.
I apologize for the quality of some of these, I didn't have my nice Canon with me.
The timeline of events in the serum run starting with the initial outbreak and ending with Balto's death.
The serum itself! On the left is the kit used to dispense the medicine with an illustration of how it's done (it doesn't look fun) and on the right is the serum.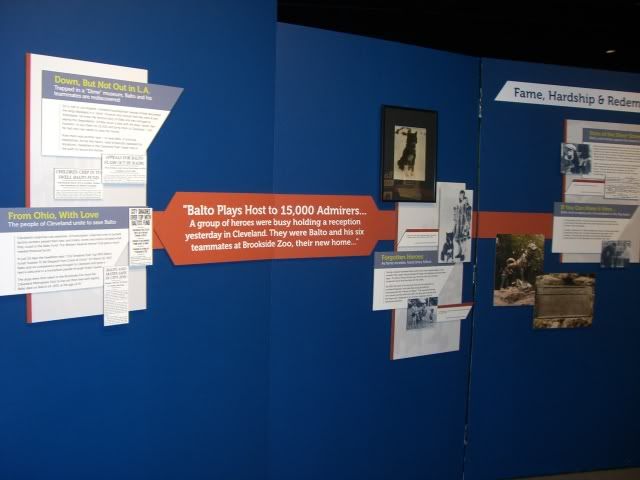 The end of the timeline. To the left of this was a small monitor running historical reels with all footage of Balto.
An interactive "game" where you built a sled dog team to see how they would fare on the path Balto took. That's my mom's hand.
Here's the team my mom and I put together! A dachshund, a cat, a chihuahua, and another dachshund. This team is destined for greatness.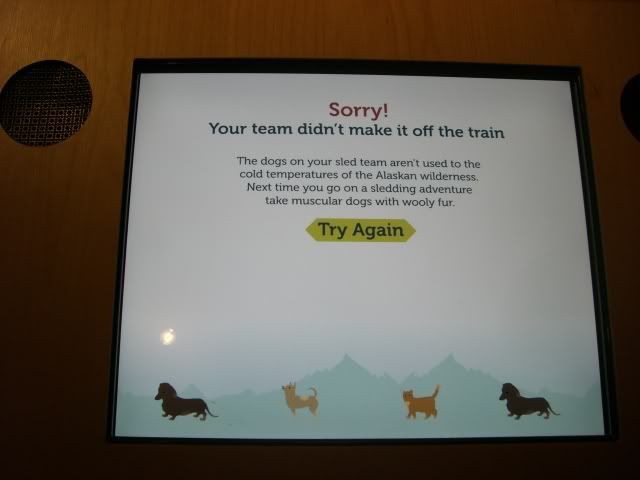 Okay, maybe not.
The dog himself! You can see a little bit of the musher's setup behind him through the glass.
On the way out, I picked up a shirt, a card on the exhibit, and preordered the cutest little beanbag animal of Balto.
The exhibit is running from March 6th to May 9th. It's fairly small (only one room) but it's worth a look if you're in the area.