(First of all, I was unsure of where to post this. Second, I searched for something like this and found nothing. So I am posting it).
Baldy of Nome was a
famous
sled dog who, with his owner Alec "Scotty" Allan, won the All Alaska Sweepstakes in 1908. Although he is no Balto, he is still an important figure in Alaska history.
The book,
Baldy of Nome
by Esther Birdsall Darling, is avalible as a free e-book. You can download it from
here (click)
. Download the HTML formate for the beautiful pictures included. This story tells about Baldy and his journey, although his breed is never mentioned. There is plenty of theories about it, but no will will truly know if nothing was recorded.
On April, 15th, 1922 the New York times posted an article about Baldy of Nome and Edna (a 'famous' collie)'s death. I tried to find a picture of the article itself, but I couldn't find anything. When I tried to get it, it made me have to pay to view it. I'd love to order the paper itself, but I do not have that money. Maybe I can ask my mum to get me some things like that for Christmas. :] (I love getting old things like that).
Anyways. So here is what the article says (I had to type it up myself)...
BERKERLY, Cal., April 14.--Baldy of Nome, famed for the races he won in Alaska, his heroic deeds that have been twenty-eight malemute sons and grand-put in prose and verse, and for the sons he gave to France for the World War, was buried here today. He died in a dog hospital of old age and his final resting place is under the rose-bushes in the garden of "Scotty" Allan, whose life he once saved.
Baldy was 15 years old. He was two years old when Allan "mushed" him through the first of his seven races for the All-Alaska Sweepstakes of 418 miles. With Baldy as the leader, Allan was brought in winner six times.
I am NOT typing the rest of it - I just typed up the the part of Baldy's death. You can view the rest of the article by going to
THIS (click)
link and downloading the PDF file. You can then read the rest about Edna.
With looking through some photographs of Baldy and such on a site, I found that Baldy may have been an Alaskan Husky. I made a collage of Alaskan Husky pictures that I got from google. Many of them have drooped ears, and even colourings like Baldy. The image is to big for me to just image link here, so
CLICK HERE
to see my collage. Now, below is a picture of a dog that I thought looked quite a bit like baldy.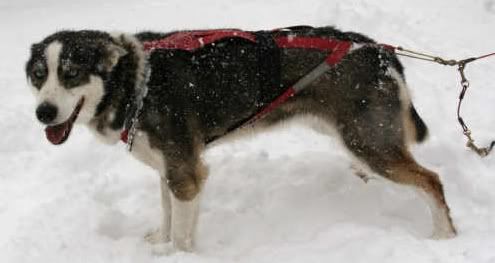 But, if you compare them side by side, you CAN see the difference. But out of all the Alaskan Husky pictures, this one looked most like Baldy. Although Baldy still seems to have a chubbier (persay) face, like a St. Bernard or Labrador.
Now, in my quest to find out more of Baldy's breed, I came across something interesting. During WW1 many sled dogs were imported from Nome to France - Scotty Allan, and Rene Haas -- an Alaskan who returned to his homeland of France to serve as Captain -- in 1915 transported 135 Alaskan Huskies to serve in the Sled Dog Division of the French Army, during a terrible winter campaign.
Twenty-eight of Baldy's offspring were transported to France during the war, one more famous one - Navarre, one of his Grandsons. Navarre, lead dog, made history when he won the French Cross for herotic duty during the war. Esther Birdsall Darling wrote "Navarre of the North" in 1930 telling the tale of Navarre. (You can find it on amazon by
clicking here
).
Sadly, I could only find this one picture of Navarre, from his book, and it is a VERY small image. But I figure I'll show you it anyways. :]
But not only did I find this information about Baldy, I found some lovely pictures of him to share with you. ;D
[1]
Here we have Baldy (lead) and his team after the 1908 "All Alaska Sweepstakes" with owner Scotty Allan.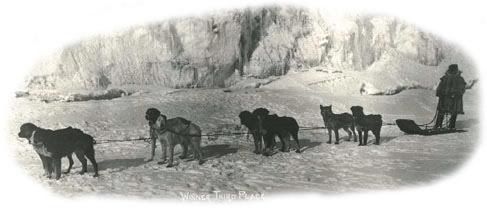 [2]
A picture of Scotty Allan and Baldy, probably taken after the "All Alaska Sweepstakes".
[3]
Another image of Baldy - a side profile photograph. Most likely taken after the sweepstakes.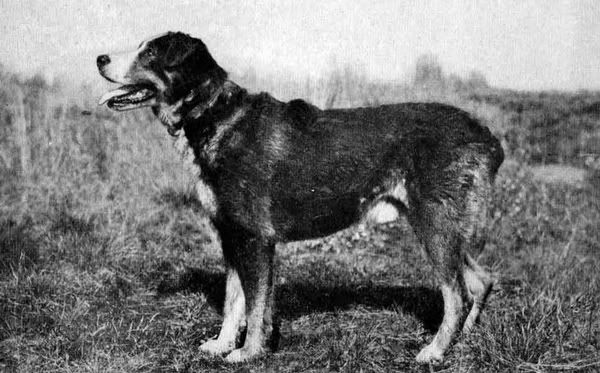 Click here
for larger image.
[4]
An possible image of Baldy at the head of his team again. Again, my guess would be that this was probably taken after the sweepstakes.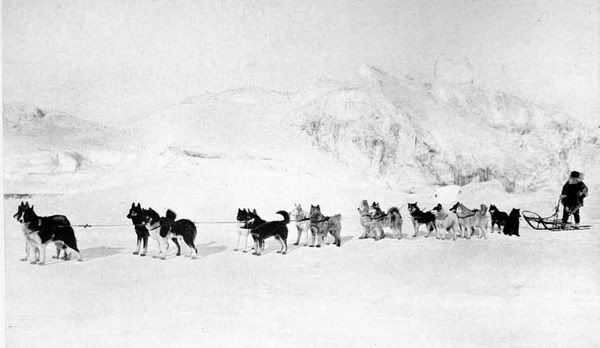 Click Here
to see larger image.
[5]
This image was actually interesting, and amused me. I was looking at it. In this photograph below, there is a dog who looks similar to Togo. This dog does not have the crook in his ear, and if this was taken after the Sweepstakes in 1908, this couldn't be Togo, because Togo was born in 1913. But the dog looks nearly just like Togo - but as we have seen, many other dogs of this era looked like Togo. In the second row, and in the back you can see the dog I speak of. (This image is from "Baldy of Nome" by Esther Birdsall Darling, along with all but the first image).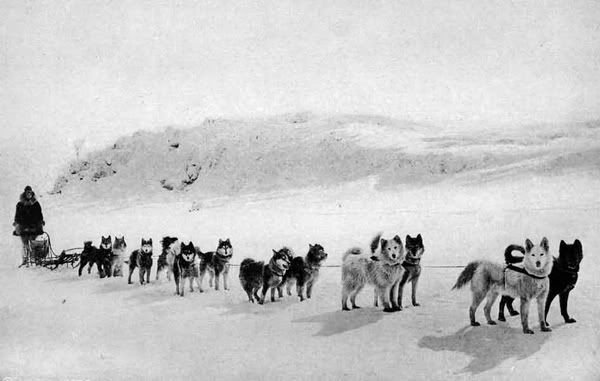 Click here
to view larger image.
And that's the images I have for you. ;D I hope I enlightened someone. lol
BE ENLIGHTENED.