Everyone thinks they know which pup is which in WQ, but this will end it all!
I know, I know - you're probably thinking 'Oh no, it's another crazed fan who thinks they know which pup of Balto's litter is which! *flames*' I am pleased to tell you that this is not one of those articles.

I am on a mission to set the facts straight. Dingo and Saba, the only other pups that say lines in the first Balto sequel, 'Wolf Quest' are exactly who we think they are . . . and I can prove it.

First of all, let's begin with what we know:

- There is a pup named Dingo (the one whose name was actually mentioned in the script by Jenna) and a pup named Saba (you had to watch the cast list during the credits to catch this).

- Only four pups in total were given names throughout the entire film trilogy: Aleu (the wolfish and dominant pup), Kodiak (added in via WoC, thanks to the flashbacks in 'You Don't Have to Be a Hero'), Dingo and Saba. The other two will continue to remain nameless, with exceptions of the rights of fan-naming.

- Since only two of the five other pups in the WQ6 do talk during the adoption scene, we can assume that these are indeed both Dingo and Saba.

-And since we assume that the talking pups are indeed Dingo and Saba, we can also say that they are both white-faced pups like their mother, Jenna, and their WoC brother, Kodi.

But which pup is which? Who is the real Aleu-tackler who dreams of chewing on human socks? Who is the blue-eyed beauty who asks Balto if he'll be adopted like them?

I have discovered the answer . . . .




The first pup that talks (seen above after successfully tackling his sister) has to be Dingo. Why, you may ask? It's simple - in the credits, Dingo's voice actress (yes, a girl plays Dingo, but I believe Dingo is a male pup's name - Seriously, could you think of naming a female dog Dingo? . . . I rest my case.) is listed before Saba's, hence meaning that Dingo is indeed the one that pounces on his wild sister.





And of course, if you haven't figured it out already, Saba is the curious pup with the blue eyes. She speaks after Dingo and again, her voice actress is after Dingo's.

To explain, it seems that with characters of minor speaking roles, they are usually listed by the order of their first (or in this case, only) line. This is the only way I've seen it done before anyway . . .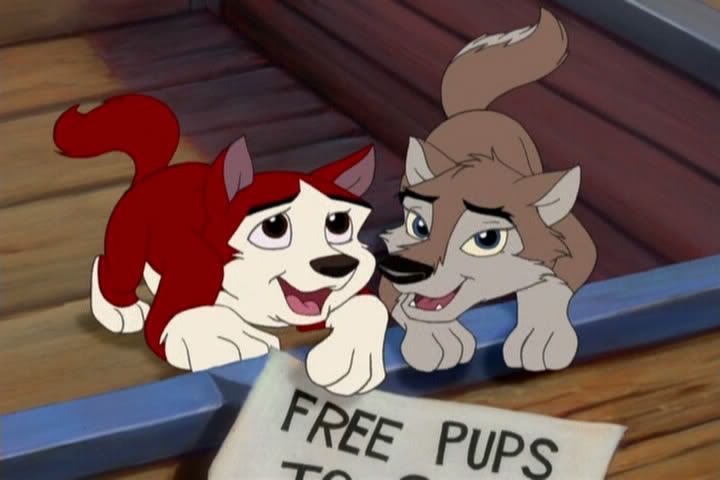 . . . and yes, that probably means that most likely, the white-faced pup with Aleu near the finale of "Taking You Home" is probably Kodi. It makes sense, but again, it could be Saba . . . only if it's an art mistake. (There were a lot of those during the "Taking You Home" sequence, so it's possible, but very doubtful.)

(Actually, I figured this out while working on my unofficial script of WQ, which will be completed in about a week and hopefully posted on here for fan usage. I just got entranced by this and thought this would be a good thing to post about - I hope no one else has mentioned this already, and if so, I do apologize for not noticing eariler.)





By the way, the adoption scene - the script before the song,'Taking You Home' - is the only time you can really figure out which is Dingo and which is Saba . . . well, only when they're speaking anyway. Due to the animation flaws and mistakes during that scene with the eyes and markings, it is hard to tell in many of the other earlier scenes when all six are together (with exception of the small scene where the WQ6 are with Balto the day before the adoption scene).

I hope this helps clarify things for you and hopefully, this will settle some things once and for all.

- written by Juuchan17 (1/18/08); all screenshots used were made by me.