Who are his parents? Well, you actually can find out.
For a while now, people have wondered who the parents of certain characters were. For Mufasa and Scar, people had many, many different versions of their parents. But when it was mentioned in a children's book after The Lion King was released, it was said that their father was named Ahadi, and their mother was named Uru. Then after that, meany different version of the two were drawn throughout the Lion King fandom.
The same went for Balto. It was curious who his parents were. Some fans believed his wolf side came from his father, while his mother was the dog side. But when the sequel came out, more Balto fans agreed that his wolf side was his mother's side, and that her name was Aniu. It is still a mystery as to who his father really was.
Now what about Charlie Barkin? Are there unified theories on his mother and father? Oh, for sure. But why go along with theories as to who his parents were, when you can find out for yourself?
You may be wondering "Cat, I've watched these movies a million times and seen every single episode of the series! His parents were never mentioned!" That's where you would be wrong. It is indeed mentioned who his parents were, and it is in fact in the first movie. They have names and designs, as well. Don Bluth didn't leave anything out about that.
Its during the song "Let Me Be Surprised" when Charlie is confronting Annabelle (who was simply dubbed "whippet angel" in the movie. She was only given a name in the second movie and anything after it.). She is flipping through his records trying to find goodness and loyalty from him. There is a record of who his parents were, his date of birth, and even his breed(s) are located on the same page. You get a view of the page when Charlie says "I don't wanna die, you've got the wrong guy" (the first time). Its not easy to see on the VHS, but its VERY clear on the DVD.
Aside from his date of birth ("September 13, 1937" which is ironically director Don Bluth's birth date.) and his breed ("Mostly German Shepherd, but also part collie, part great dane, and part retreiver.") you see a view of Charlie as a pup, and on the page next to it are portraits of his parents.
His father's name was Burt R. Barkin
His mother's name was Loni A. Bowzer
Too lazy to look it up? Or just don't believe me altogether? Well, how about this for proof.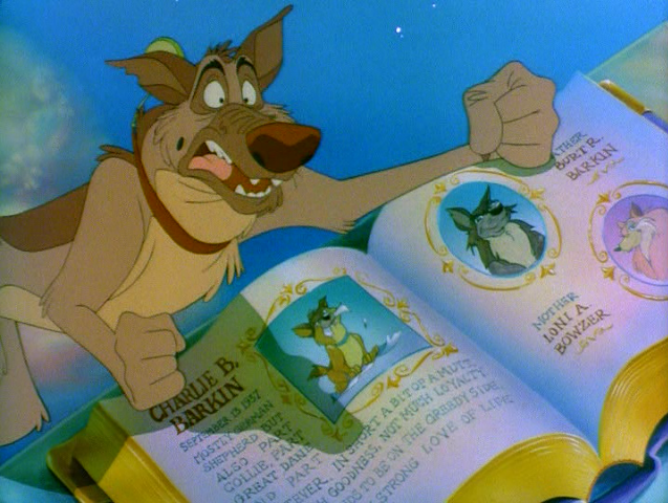 It's safe to say who Charlie's parents officially were/are. But it is unsure if they were alive or dead. True it showed their portraits in Charlie's book, but it was just a record of who he was, not a record of their state of being.
Now that we know who his mother and father are, what are now your theories on them? Who do you think was responsible for Charlie's crazy mixture of breeds? Do you think they're still alive? Why?
**(Interesting tidbit. Burt and Loni were named after the actors Burt Reynolds (Charlie) and Loni Anderson (Flo), who were actually married at the time, but later on divorced. Hence the choice in their middle initials. Could this be a hint towards Charlie and Flo's relationship?)
It's difficult to say if they were dead already. I personally think they were still alive after Charlie went to Heaven. Certainly he would've seen them there at some point (not counting the sequel. They forgot alot of things in the first movie, I don't think they'd bother to know who his parents were xD).
As far as the breeds go, I think Loni looks more like a full on collie, but that would make Charlie mostly collie, not mostly German Shepherd. Judging by Burt's appearance, I'd say he was mostly German Shepherd himself, with some Great Dane for size, tho I think he looks more like a wolf than a German Shepherd, haha. As for Loni, I think she would've been the fluffier breeds, collie and retriever.
Anyway, I hope you all learned something from this. To really look for details in movies like All Dogs Go To Heaven. (And especially to not make fan characters out of Burt R. Barkin and Loni A. Bowzer xD)