Choose a fansite to visit!
Did you miss the Sing-Along version of Frozen in theaters? Now's your chance to own it on DVD and Blu-ray!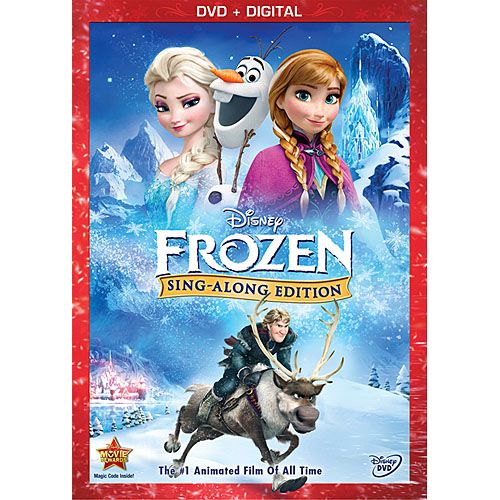 This version of the film is exactly the same as the normal one, except whenever there are songs, the bottom of the screen lights up with words. As the characters sing the words, the words light up and give you the chance to sing along at home. Since Frozen is full of songs, there are PLENTY of songs for you to sing along to!
Pre-orders are being taken for now (click this link for more information), and the movie ships out in November.
[...]
Read more!
1 comment
| | | | |
| --- | --- | --- | --- |
| Members online : | | | + 12 other visitors |
I have compiled as many deleted scenes as I can find and put them on this new section of Frozen Source. If there are scenes I've missed, let me know (either through PM or in the comments) and I will add them immediately.
Post a comment
There is so much information about the making of Frozen, but I have attempted to condense it into a new subsection of Frozen Source: Production Notes. So if you want to learn more about the process of making the film, this is the section to visit!
On top of that, I'm working on advertising Frozen Source on many other Frozen fansites. Hopefully this will help people come and enjoy Frozen Source. Also be on the lookout for new sections in the future (including one for "The Art of Frozen") and updates to current sections.
[...]
Read more!
Post a comment
Our latest Site-Wide Contest has come to a close, and now the time has come for you to vote on your favorite How To Train Your Dragon fan art and images! Each piece is below; click each to view in higher resolution. To vote, send me a PM telling me who you vote for in each category (DO NOT COMMENT ON THIS NEWS POST!!!!). Voting runs from now through August 31, and the winners will be announced September 1. Their prize: a free digital download of How to Train Your Dragon 2!
Fan Art:
#Tootless Selfie by LionObsession
Toothless by Karlamon

Tracking by [...]


Read more!
1 comment
| | | | | | |
| --- | --- | --- | --- | --- | --- |
| | | | Frozen News - 7-31-14 | | First of all, here is some "real-world" Frozen news for you. The biggest thing is that a p [...] Read more! |
| | | | | | |
| --- | --- | --- | --- | --- | --- |
| | | | San Diego Comic Con- Season 5 ... | | The last few days have been big for my little pony news! At the San Diego comic con, mlp had its own [...] Read more! |
| | | | | | |
| --- | --- | --- | --- | --- | --- |
| | | | Balto Source anniversary featu... | | Hello again Balto Source. Sorry for being a bit late with news entry, but this Friday Balto Source h [...] Read more! |
| | | | | | |
| --- | --- | --- | --- | --- | --- |
| | | | 20 Reasons Why The Lion King S... | | Two big publications (People.com and ABC.net) posted interesting articles recently, to celebrate the [...] Read more! |
| | | | | | |
| --- | --- | --- | --- | --- | --- |
| | | | Ask Phil Weinstein! | | That's right, Phil Weinstein, director of both Wolf Quest and Wings of Change, agreed to an [...] Read more! |
| | | | | | |
| --- | --- | --- | --- | --- | --- |
| | | | Everything Wrong With Balto | | Sorry this took so long, but "Everything Wrong With Balto" is done and ready for your view [...] Read more! |
Generated in 0.053 seconds